AHEPA VICTORIA is celebrating its 80th ANNIVERSARY!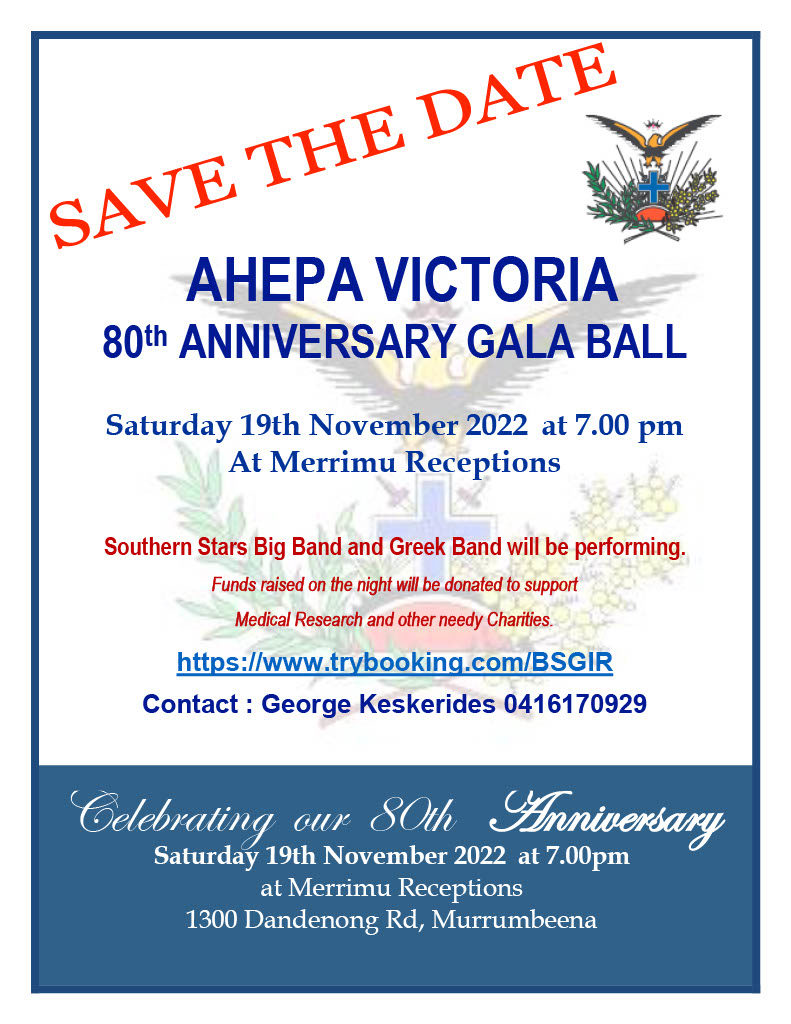 The Carnival Night was organized by Chapter Athenian No 2 and Chapter Atlas No 19 on Saturday 28th February 2015 at Ahepa House.
The response was overwhelming and everybody had a wonderful time. The music, food, drinks and dancing was amazing plus the excellent costumes. Present who were involved were the presidents of Chapter Atlas Br. Chris Tiafernopoulos, the President of Chapter Poseidon Br. John Marabeliotakis, the President of Chapter Athina No 2 Sis. Sofie Mercoulia,and the National Lodge members Brothers Steve Manos, Peter Patisteas, Zafiris Vachlas,Denis Patisteas.Peter Yiannoudes and Sis. Voula Marabeliotakis.

AHEPA Youth and NUGAS Victoria are proud to continue our successful networking partnership by returning in 2015 with our 2nd AHEPA – NUGAS Business Breakfast.
In a period of rising unemployment, an increasingly competitive jobs market for graduates and an uncertain economy, self-differentiation has become a critical skill for our youth to learn and master: to secure and maintain employment, to elevate through the ranks and to reach the career highs we have all envisaged for ourselves.
Students and graduates will be paired up with professionals and entrepreneurs from a diversity of industries, from the law to the media, arts and culture, the sciences, finance and commerce. Tables will be arranged by industry, whilst before and after the event attendees from all backgrounds will be able to mingle aplenty.
The Business Breakfast will be headlined by a panel of philhellenic professionals of upstanding regard in our broader Australian community, including former Premier of Victoria, the Hon. Jeff Kennett AC, and Con Frantzeskos, a leading digital and brand strategist.
The panel will dissect the theme, "Building Your Career Brand: How to Stand Out" and will draw upon our panelists' career experiences, highlights, greatest lessons and challenges, to provide value and insight to our budding students and graduates.
Attendees are invited to submit questions to the panel via our TryBooking system.
Tickets start from $45 per person and are only available online at www.trybooking.com/GQTZ. Hurry, early bird tickets are only available for month of February.
Victorian Women's Benevolent Trust function at Glen Iris
On Sunday 2nd Nov AHEPA Daughters of Penelope held a function to raise funds for the Victorian Women's Benevolent Trust, The theme in keeping with the spring carnival was racing and the daughters with the help of the youth chapter Achileas girls were magnificent in the fashion parade .
Photos in the Link Below: